Laser cutting is the royal class among cutting processes for the metalworking industry. No other process is more precise or fine than a laser cutting machine.
With our laser cutting machines you can cut plates as accurately as technically possible, and that with an excellent power density. This is possible through a very narrow cutting kerf and low heat input into the material. Thus our laser cutting machines can cut very fine geometries in a plate without much loss of material. This means you get shapes with precise cut edges and operate as energy and material efficient as possible.
Laser cutting machines are used in many branches of the metalworking industry, from heavy industry to shipbuilding. Whether for small batches or mass production: laser cutting is efficient both in energy and material use and is suitable for a multitude of metal components. With our laser cutting machines you can cut or engrave Stainless Steels, Mild Steel or ever Aluminium into any conceivable shape.
Laser cutting is ideal for plate thicknesses up to 30 mm, or even more under certain circumstances. For thicker plates plasma or oxyfuel cutting machines are more suitable. For this you can also combine processes for maximum flexibility with many of our machines.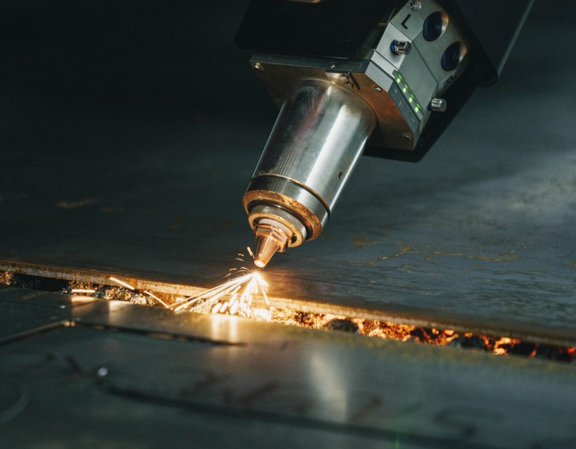 ELEMENT 400 L 20mm Bevel Cutting with Oxygen
Messer Cutting Systems GmbH
---
Otto-Hahn-Straße 2-4
64823 Groß-Umstadt
All advantages at a glance
Using the laser cutting process a multitude of the widest variety of materials can be cut, especially:
Mild Steel
Stainless Steel
Aluminium
That means that you can process and cut to size every material common in industry. Depending upon process and material, plate thicknesses from 0.1 to 30 mm are possible. So laser cutting machines can be used for a wide spectrum of material properties: this makes laser cutting the most flexible cutting process in industry.
With a laser focus of about 0.2 mm, a laser cutting machine cuts particularly finely. In doing this, the material is only thermally stressed locally, and the cut width is hardly wider than the laser beam. Thanks to this, very little material loss and it is possible to cut very fine and complex contours. This means that laser cutting is flexible and applicable for a wide range of uses.
Regardless of which process is used, laser cutting machines operate with high precision and without high material loss. The material in the cutting gap melts or evaporates very fast and completely during cutting so there is hardly any distortion or slag formation. This produces precise and fine cut edges which in most cases need no finishing.
With laser cutting the material is only thermally processed locally, directly on the cut edge. This results in the material being hardly thermally stressed, in contrast to other processes, so that the material is conserved and is neither deformed nor damaged.
Laser cutting takes place with no contact, the material is only cut by the laser beam. Consequently the cutting machine is not worn by material contact and the plate is neither deformed nor damaged.
No cutting process can cover 100% of all cutting tasks. Our laser cutting machines enable you to combine a multitude of processes in one machine. Thanks to this you can execute all cutting tasks in one operation and save time, costs, and space. Thus you can, for example, combine laser cutting and plasma cutting or combine other drills and fine grinders.
Our material handling solutions enable you to maximise machine utilisation through automation. They are modular and can be configured individually according to your needs. This allows you to design your production processes more efficiently.
OUR SPECIALITY
---
Fibre laser
Laser cutting machines with fibre laser technology have numerous advantages. For example, these systems are very flexible and easy to handle, as the laser is guided via a fibre optic cable and neither complex adjustment work from the beam source to the cross carriage, nor a gas for the beam path flushing is required. As a consequence, such laser cutting machines are not only flexible, but also require little maintenance.
At the same time, fibre lasers deliver high component accuracy and low heat input, so that even complex and small shapes can be cut easily. Both vertical and bevel cuts with a bevel angle of -50° to +50° are possible. This makes bevel laser machines flexible and versatile.
Laser cutting with fibre lasers is also very efficient: compared to CO2 lasers, fibre lasers work much more economically and energy-efficiently with a connection efficiency of up to 30%, and this with comparable and high-quality processing quality.
Fibre lasers can cut a wide range of metal sheets:
Aluminium
Mild steel
Stainless steel
Learn more about fibre lasers now!
Matching machines
Fibre Laser