Flexibility for the metal processing industry
The demands on your production are continually increasing. As a solution provider, we therefore focus entirely on your needs. Continually providing increased efficiency, reliability and quality: we know what today's metal processing industry requires from you – with our new, flexible ELEMENT platform we are already setting the course for a successful future today.
Apart from the high level of productivity and precision you have come to expect from us, this solution offers customised configuration options and updates, enabling you to respond to future requirements. This gives you a real competitive edge – helping you to stay ahead in the long run.
Messer Cutting Systems GmbH
---
Otto-Hahn-Straße 2-4
64823 Groß-Umstadt
---
High acceleration and positioning speeds of the machine
Improved User Experience
---
The new, easy-to-operate Global Connect CNC control equipped with 18.5" touchscreen helps to save paper and provides a clear overview of all production data in digital form
Improved cutting quality
---
Selected premium components and smooth, vibration-free tool path movements thanks to helical rack and pinion drive systems

Increased safety
---
Compliance with all applicable standards and specifications, e.g. through the use of a moving light barrier

Efficient operation
---
Floor mounted rails for clearing and unloading of parts leads to time savings

---
MULTIFACETED TASKS – MULTIFACETED OPTIONS
The ELEMENT 400 is the pioneer of our new platform solution. As a highly flexible all-rounder, it embodies everything it stands for. Safe, efficient, suitable for automation, versatile and upgradable with hardware and software from a single source, it combines our entire experience from more than 120 years in the field of thermal cutting – to benefit you in your everyday work.
The ELEMENT 400 is our multi-talent for all common cutting and additional processes, for serial tasks in continuous operation and special tasks with a focus on perfect cuts.
Plasma Bevel Cutting - Bevel-S
From complex contours, holes or bevels for welding seam preparation: the Bevel-S has been developed specifically for use with the ELEMENT platform and provides a very high degree of flexibility. It enables precise bevel cuts within an angular range from +45° to -45°. The process is controlled by Global Connect, allowing you to perform all preparatory work in next to no time. High-acceleration ± 540° rotation enables you to use your machine at maximum efficiency. For a perfect result, the torch height is controlled automatically and precisely throughout the entire cutting process based on the arc voltage. Throughout the development of the aggregate, special attention was paid to optimisation and low wear of materials.
Your benefits:
Bevel cuts ranging from +45° to -45°
C-axis rotation up to ± 540°
Compact design providing maximum effective working width
Low weight for excellent dynamic behaviour
Material-compatible design for low follow-up costs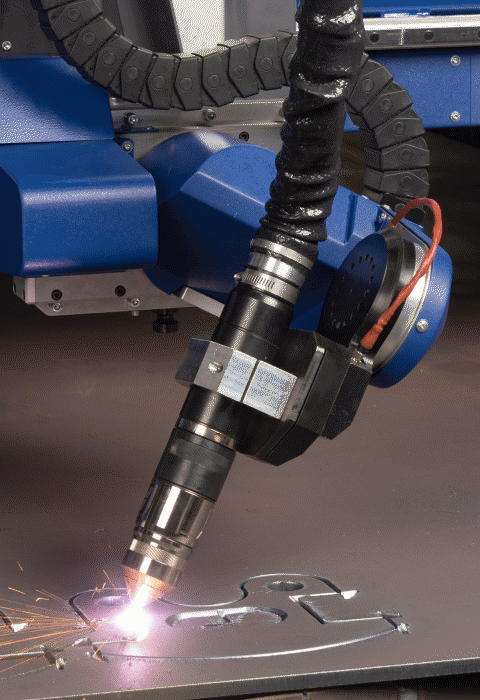 Plasma Bevel Unit Bevel-R
Our compact 5-axis bevel cutting unit with collision protection is the entry-level solution for occasional bevel cutting.
With ±45° cuts and quasi infinite rotation, the Bevel-R does not only allow cuts at a right angle, but also bevel cuts from V, X or Y on simple contours for subsequent welding processes.
Your benefits:
High performance and precision combined with low maintenance due to the use of AC servo drives
The integrated protective function with magnetically positioned torch holder ensures quick, easy and precise torch alignment following a collision
Simple set-up of the correct tool centre point after changing consumables
The torch height is controlled within ±0,25 mm accuracy by means of arc voltage height sensing, resulting in a consistently high component precision during bevel cutting
Bevel angle ranging from +45° to -45° with suitable plasma units
The starting distance of the torch is determined directly by the nozzle contact, resulting in short cycle times and high measuring accuracy
Can be ideally combined with other thermal cutting processes on the same machine
Plasma Straight Cutting
Plasma Straight cutting is a particularly fast and cost-effective process for all conductive materials such as aluminium, copper, mild steel and high-alloy steel.
Due to the use of a range of different technologies for straight cutting, our machines can easily be adapted to your requirements. This ensures that we can always offer you the ideal solution according to material, thickness, cutting quality and cutting speed and recommend a great variety of tools for plasma cutting tasks.
Your benefits:
Extremely fast and efficient
Flexibly adaptable to your tasks
Oxyfuel machine torch ALFA
Our ALFA torch offers numerous sophisticated features and options, taking thermal cutting to a completely new level. The torch nozzle, for example, can be replaced without a tool. As a result, misalignment of the torch is prevented, resulting in drastically reduced set-up times. The cap can simply be unscrewed to expose the nozzle, so it can easily be checked or replaced.
Moreover, material can be utilised in a more efficient way, as the ALFA is able to cut effectively up to and along the edge of the sheet.
Furthermore, the torch integrates numerous functions, which on other systems are attached to the outside, such as height sensing. Their full integration eliminates the need for additional cables and sensing rings – and having to exchange the latter to suit different material thicknesses or to replace them due to wear.
Your benefits:
Quick nozzle change without tools and without a misalignment of the torch, resulting in significantly reduced idle times
Improved material utilisation through optimal sensing and cutting, also along the edges
Fully integrated magnetic height sensing
Pin Marker
Our robust and low-maintenance pin marking system enables quick marking of numerous materials: within a few seconds, the vibrating stylus, incorporating its own transverse axes, generates an easily legible, durable marking whilst providing easy operation.
Your benefits:
High-speed marking with numbers, letters and special characters as well as lines and contours
Variable marking depth
Automatic shutter provides protection against external influences
Ability to apply markings through a corroded sheet surface or mill scale
Suitable for surfaces up to 100 x 100 mm without moving the guiding machine
Clear, physical markings that cannot be easily removed
Inkjet Marker
The robust Inkjet marker is able to quickly and quietly mark a range of different surfaces with text, data and logos. Due to its easy operation and modular structure, it can be used flexibly – even under extreme environmental conditions such as dust, vibration, temperature fluctuations or moisture.
The variants providing 7 or 16 nozzles allow producing single-line or two-line markings of up to 67 mm in height.
Your benefits:
Designed for use in the metal processing industry
Quick, quiet marking without damage to the sheet surface
Very robust and reliable technology
Economical use of consumables
Quick cleaning of the print head at the touch of a button
IP65 protection
Markings cannot be wiped off with water
HF Punch Marker
For efficient further processing of workpieces, it is often necessary to apply permanent markings.These include lines, dots, alphanumeric and other marking options. For this purpose, the Punch Marker can produce markings of single point and dotted lines in seconds.
Driven with air pressure the Punch marker achieves a high impact force on many metallic surfaces. Variable marking depth and dot spacing ensures marking even on less ideal surfaces.
Good visible markings even on difficult sheet surfaces
Good visibility of contours on many sheets
Resistance and durability, e.g. in the bending process or in abrasive and corrosive stresses
Low operating costs and high availability

---
CREATING SOLUTIONS BEYOND MACHINES
Although we are known for a 100 per cent focus on the requirements of cutting machine users, to us, the machine is only one component of the overall solution.
We offer our customers the most diverse solutions portfolio in the thermal cutting industry. Moreover, Messer Cutting Systems offers software solutions, original spare and wear parts, a broad spectrum of services and numerous additional options to upgrade your machine in an optimal way.
We are able to find the right end-to-end solution for your specific requirements: Contact us via the enquiry form and discover holistic solutions that will give you a decisive competitive advantage - today and in the future.
Are you ready to redefine Productivity?
Use the chance to experience the ELEMENT 400 live, contact our productivity experts and let us make you an individual, obligation free offer!

We look forward to hearing from you.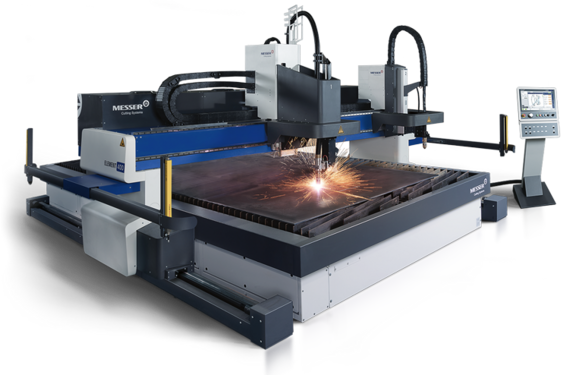 Live-Demo
Convince yourself live of the many talents of our new ELEMENT – with a demo appointment at our German headquarters in Groß-Umstadt.
---
Offer
We would be happy to prepare an offer for your desired solution – or to inform you about other suitable possibilities.