GRIFLAM® flame straightening technology – our solution for your flame straightening requirements. With our GRIFLAM® flame straightening equipment heat can be applied targeted and fast to pre-determined areas of the component to straighten without applying mechanical force.
Targeted heat application
Cost efficient straightening of components
Material properties are retained
Individual consultancy
Layout of the complete gas supply system
Application technicians for tests, commissioning and service
Training possible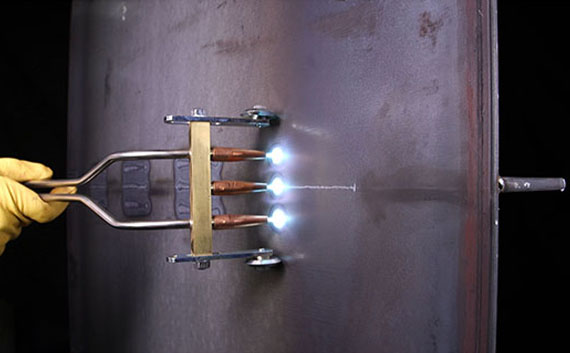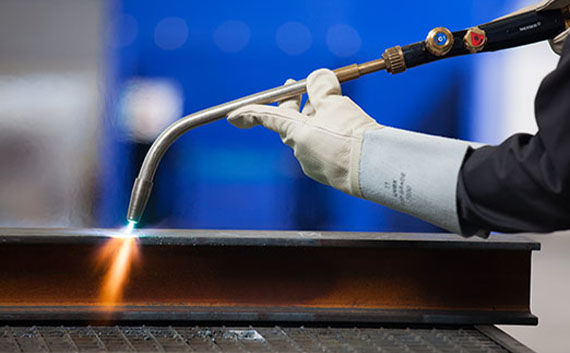 Engineering
Steel production
Production of rails
Automobile industry
Shipbuilding
FLAME STRAIGHTENING: PROCESS TECHNOLOGY FOR STRAIGHTENING WELDING DISTORTION
Flame straightening can be used for various problems. With the aim of gently straightening welding distortion, metals or profiles, the material (component) is heated up to the plastic deformability range. The temperature depends on the material:
Steels 550 - 700 °C (dark red heat)
Light metals 350 - 400 °C (wood chip sample)
As a result of an impeded thermal expansion, a compression is caused. During cooling, a shortening (shrinkage) of the material occurs, which leads to the desired change in shape. The final result of flame straightening becomes clear when the material has cooled down to room temperature.
Flame straightening is a proven manufacturing method that is easy to apply under guidance.
FLAME STRAIGHTENING INSTRUCTIONS: THE PRACTICAL PROCEDURE
Depending on the component, there are several types of heating.
Heat point - flame straightening of sheet metal: The challenge when flame straightening bent sheet metal or thin tubes is to keep the heat point as small as possible. Straighten from the clamping to the centre of the sheet field.
Heat oval - flame straightening of pipes: A typical application for the oval heater is after welding on pipe nozzles. The oval heater is heated through and arranged in the longitudinal direction of the pipe axis.
Heat leveling: Heat leveling during flame straightening is used to eliminate angular distortion, which can occur when counterheating fillet welds. It is important for the implementation that the plastic area must not extend more than one third into the sheet depth. With the heat point series, which is also a possible heating method, the bending is less pronounced.
Heat wedge - flame straightening of profiles and lamellas: With the heat wedge, particularly strong bends can be created or corrected, as is the case when straightening profiles and lamellas. When the process technology is optimally implemented, everything is heated evenly to the straightening temperature, starting at the tip and ending at the base surface.
FLAME STRAIGHTENING: WHICH DEVICES ARE USED?
The decision as to exactly which flame straightening burner is used depends on the respective application and the thickness of the material to be processed. The choice is between single-flame burners, multi-flame burners, switchable 2-, 3- and 5-flame burners or special burners.
Single-flame torch: The single-flame torch is usually an integral part of normal welding equipment and can be used for straightening with heat spots, lines, wedges or ovals.
Multi-flame burner: From a material thickness of 20 mm, a multi-flame burner is recommended for levelling with thermal screeds, wedges and ovals.
Switchable flame burner: The switchable flame burner is primarily used to eliminate angular distortion, and is also heavily used in shipbuilding when decks or walls need to be straightened.
Special torch: For particularly thick workpieces or large pipes, the special torch is most suitable for flame straightening.
GAS SUPPLY DURING FLAME STRAIGHTENING
One of the most important rules in flame straightening is to secure the gas supply. The high heat output required for optimal implementation of the process technology already requires a second gas cylinder from burner size 6, which can be connected via a multiple manifold.
Due to its high flame output and good focusability, acetylene is the optimal fuel gas!
Messer Cutting Systems GmbH (OBU)
---
Oxyfuel Business Unit
Am Brüchelsteg 8
64823 Groß-Umstadt
This might also interest you:
Messer Cutting Systems is the solution provider for the metalworking industry. In addition to cutting machines and oxyfuel technology, we offer software solutions, spare parts and a wide range of services.
We are sure that we will find the right solution for your individual requirements. Contact us, we will reply to you as fast as possible.