Our exclusive CNC control includes expertise gained from thousands of machine installations around the world. An extensive custom shape library, multiple process databases, CAD import, true-shape nesting, productivity monitoring and remote diagnostics are just some of the key features packaged in the industry's only IP65 rated enclosure. Easy to learn functions allow for a quick familiarisation for new employees to achieve expert results.
Multiple process databases
Modern graphic interface minimises the learning curve
Industrial CNC computer with integrated PLC and motion control eliminates expensive proprietary cards while providing high performance and reliability
True shape nesting and direct import of CAD files allow parts to be cut quickly on the shop floor with minimum scrap and without additional resources
Backup Tool keeps a copy of the hard drive to minimise downtime due to virus activity etc.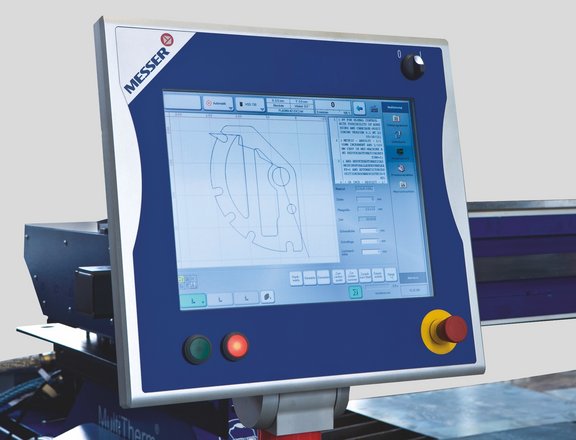 Optional Features
Video camera(s) can be used as alignment tool and for process viewing.
An eight position joystick and feed-rate override dial create an operator-friendly panel.
Messer Cutting Systems GmbH
---
Otto-Hahn-Straße 2-4
64823 Groß-Umstadt