Do you need a compact machine which is flexible and easy to use for your daily work? The MultiTherm® Eco is the perfect universal machine for oxyfuel and plasma cutting. Efficient cutting productivity due to a high level of automation and easy set-up and operation produces quality components - quickly and efficiently.
Oxyfuel and plasma cutting
Suitable for bevel cutting
Maximum working width with minimum space requirements
Electrical cabinet accessible from the side
Automatic gas settings for oxyfuel and plasma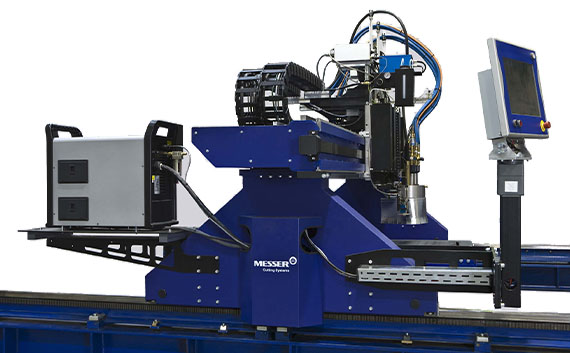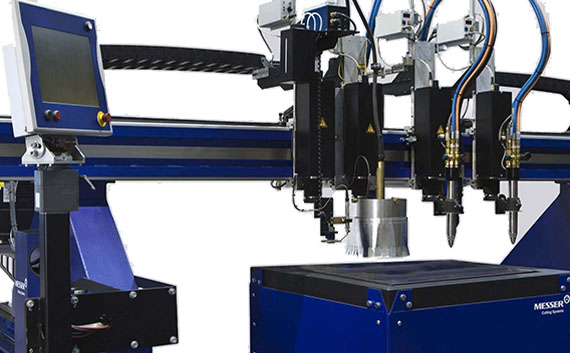 Simple operation and maintenance
Fast torch lifters (16 m/min) with integrated collision protection
Twin-sided longitudinal drive
Fast processes
Exact cutting results
The user-friendly CNC control Global Control speeds set-up and reduces errors and non-productive times. The intelligent torch lifter SL200 for plasma allows time-saving cycles and high stroke speeds. Multiple ALFA torches with quick nozzle change permit high productivity.
The symmetric wheel-housings and parking space for temporarily unused heads optimise the working width but keep space requirements reasonable. The combination of oxyfuel and plasma cutting processes cover all commonly occurring materials and tasks. The MultiTherm® Eco impresses with high dynamic and is suitable for bevel cutting.
Messer Cutting Systems GmbH
---
Otto-Hahn-Straße 2-4
64823 Groß-Umstadt
In addition to our cutting machines, we also offer you a wide range of other equipment options. Whether marking or drilling, we are sure that we will find the right solution for you.
Messer Cutting Systems is the solution provider for the metalworking industry. In addition to cutting machines and oxyfuel technology, we offer software solutions, spare parts and a wide range of services.
We are sure that we will find the right solution for your individual requirements. Contact us, we will reply to you as fast as possible.