The Water Tables from Messer Cutting Systems are designed by engineers who have years of practical experience in the use of water tables with plasma cutting.
For special materials or especially high requirements for low distortion and low heat affected zones, there are cutting processes in, on or over water. Messer can also offer here the optimum solution designed for all conceivable variations.
The use of expulsion chambers permit water levels to be raised and lowered in a matter of seconds. Preset level switches enable the user to set levels appropriate for their operation: cutting on water, cutting completely under water or lower water for loading and unloading.
To suit the individual application or logistic requirements of our customers the tables are built nearly individually by using modern modular constructions
Modular construction to suit all working areas
Fast raise/lower of water level
The patent ejector helps to reduce the air usage dramatically
Dust and sludge will be bound by the water
Only a small over-head extraction with correspondingly small fan-filter unit is required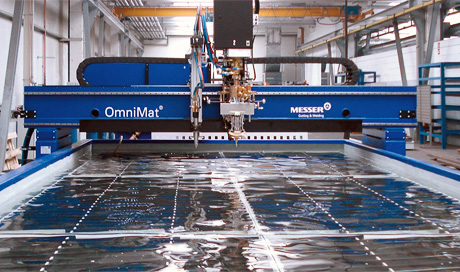 Messer Cutting Systems GmbH
---
Otto-Hahn-Straße 2-4
64823 Groß-Umstadt