The sophisticated cutting table especially for plasma and oxygen cutting has all the advantages of other conveyor tables and offers additional important benefits.
The slag and small pieces which occur during the cutting process drop almost "barrier-free" onto the conveyor belt, which moves on the bottom of the cutting table in a water basin. The material is removed to one side out of the table.
Obstruction-free system
Low-maintenance use
Conveyor system for small pieces
Raised material ejection
Dust binding and increased filter cartridge life
Saves separator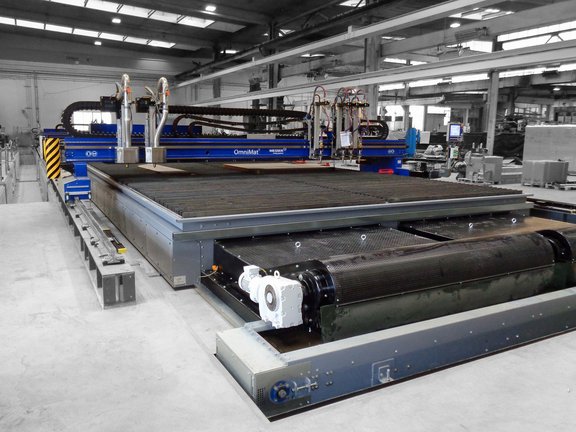 The conveyor belt moves inside a water basin, the water protects the belt against hot pieces and hot slag falling down. Shield plates for the protection of the conveyor system , which have to be cleaned from "slag-cakes" as found in vibration conveyor systems, are not present.
The belt conveyor system works almost maintenance-free: The conveyor belt is driven one-sided and moves in guiding rails. The slag falls down into the cooling water bath and then onto the belt. Thus it does not stick to the belt.
The dust occurring and fumes are partially bonded in the water. The cartridges of the filter system are less loaded with dust, so their operating life will be prolonged.
Messer Cutting Systems GmbH
---
Otto-Hahn-Straße 2-4
64823 Groß-Umstadt