OmniFab 2022 is the software suite that offers you, as a company in the field of flame cutting and cutting technology, a tailor-made solution for your order-related production. It integrates Messer mechanical engineering technology into your business processes.
OmniFab 2022 is a modular software suite that grows with your requirements. The modules can be combined in such a way that they are precisely tailored to your particular situation.
Automates your processes
All systems work "hand-in-hand" across the entire value chain of the company.
Order data from the ERP system is available in your CAD/CAM software. Results from production run seamlessly back into your ERP system with the order data.
Makes results transparent
Pre-calculated production times and material usage are checked with real data and automatically adjusted.
Increases the availability of your machines
From the machine data, you can generate plannable maintenance intervals and uncover potential for optimization.
The result: a competitive edge through increased production efficiency.
Messer Cutting Systems GmbH
---
Otto-Hahn-Straße 2-4
64823 Groß-Umstadt
---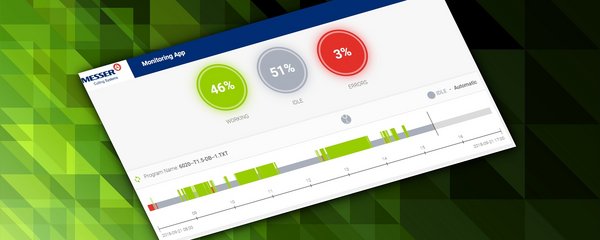 Provides clearly arranged information about cutting machines during operation including machine monitoring, machine utilization, cutting orders and much more.
Offers real-time machine monitoring of current cutting program as well as current shifts. The graphic display shows all relevant details at a glance.
Clearly displays times spent and reasons for downtime (optionally).
Informs when a job has started and finished comparing target and actual times.
Generates graphic reports for a quick overview of the thermal cutting systems performance, even for a large number of machines.
Ensures that jobs with their nesting information are available at the right time at the right machine. All important information is paperless and digitally available on the job.
Filters jobs by delivery date, material or other important attributes.
Sorts and schedules jobs on machines with drag & drop in real time. Rescheduling and automated planning, using various criteria, works just as easily.
Defines shifts with direct overview of planned jobs and current shift utilization.
Delivers details on preliminary costing and planning and helps machine operators to work more effectively.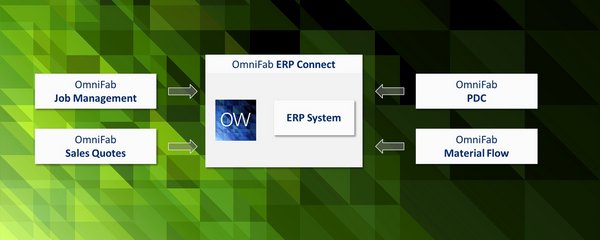 Takes data from the ERP system and makes it available for production planning and work scheduling
Order items, parts, plates and other relevant customer data are automatically available where you need them
From quo-tation to post-calculation, from designing the parts to creating nesting plans, transferring the plans to the machine and finally cutting the parts
Automatic data exchange between ERP system and OmniWin via XML and web interfaces for orders, customers, plates, nesting plans
Fast and reliable creation of quotes reducing time wasting tasks in order-related production
The Sales Quotes Module helps the sales department to collect all parts and working steps for a quotation
Use of existing parts or creation of new parts with fast and easy part templates addef to the quote
Calculation of production times, material consumption and weights for the cut parts are calculated
Assigning further work steps and additional production parameters and attach documents like working papers or dimensioned drawings.
All information will be shared with ERP or CRM systems, to create the complete quote with costing and track the status from quotation to produced part.
Connects to material handling systems comprised of material loading and unloading stations, towers, and material transportation devices like pallets and lifters.
Controls and orchestrates the entire material flow automatically knowing exactly, which jobs are scheduled for a machine at which time.
The material will be optionally stored, then moved to the cutting machines and eventually to unloading stations according to schedule.
Helps to configure jobs completely with all required information in advance so that the machine can automatically start cutting.
Reports actual production data back to connected systems.
Integrated into the machine's Global Control.
Runs on all connected devices that have a web browser, such as tablets or smartphones.
Generating complete, up-to-date and reliable data for production control.
Record setup, production, loading and unloading times, number of parts produced and scrap, the actual plate used and the actual material usage.
In combination with OmniFab Job Management, the production results are visible in real time for production planning.