The SmartBlade has been conceived for use in small workshops with limited space available and offers all the advantages of a fully-fledged plasma cutting machine. The machine concept focusses on the operator and flexible working –the simple operation ensures for you the desired cut quality for all tasks. The SmartBlade is the economical entry level machine for everyone who demands the best quality even with complex vertical cuts.
Attractively price plasma cutting machine
High cut quality on Mild Steel, Stainless Steel and Aluminium
Simple operation thanks to the tried and tested CNC control system Global Control
Cutting table included
Quickly into operation using the CNC software OmniWin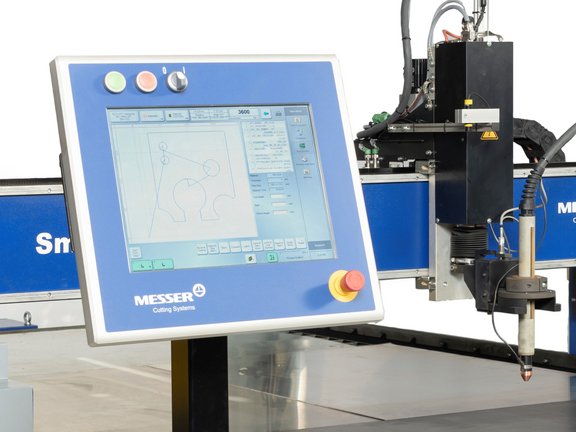 Maximum working width with minimum space requirements
Meets the requirements of allstandards and all safety standards
Twin-sided longitudinal drive for high precision
Collision recognition and magnetic torch holder help to minimise torch damage
Messer Cutting Systems GmbH
---
Otto-Hahn-Straße 2-4
64823 Groß-Umstadt
Your customers need side walls for ventilation systems, cut parts for metal covers or holders, and that in the shortest time? With the plasma cutting machine SmartBlade you can fill such orders simply and quickly. The working width of 1.5 m and a working length of maximum 3 m open many possibilities for you. Plasma cutting up to 15 mm plate thickness on Mild Steel, Stainless Steel or Aluminium? The SmartBlade makes this easily possible. Thus it is cast in the ideal role for all requirements – from simple right up to complex vertical cuts.
The bridge and table form one unit, because of the good static characteristics, the plasma machine is not easily disturbed whilst cutting. And you can also rely quite relaxed on good quality cuts in the most varied materials. On top of this, your competitive edge is increased by the attractive purchase price and the low operating costs resulting from the long lasting and low maintenance components incorporated in the machine.
The SmartBlade meets the requirements of all Standards which you need for reliable production. Your plasma cutting machine​​​​​​​ should be easy to use? We have developed the CNC control system Global Control for this. With its graphical interface it simplifies the task of the operator enormously.
Most Valued Customer,
thank you for your interest. We will process your request and get in touch with you as soon as possible.
Best Regards
An error has occured while submitting the form. Please try again later.
Messer Cutting Systems is the solution provider for the metalworking industry. In addition to cutting machines and oxyfuel technology, we offer software solutions, spare parts and a wide range of services.
We are sure that we will find the right solution for your individual requirements. Contact us, we will reply to you as fast as possible.