Do you want to increase your production competence further through efficient large area processing? The LaserMat® II is the specialist for precise CO2 laser cutting in XXL format. The premium CO2 laser can process large format areas of z. B. 20 m x 4.5 m – and that automated in one operation! As well as perfect simple vertical cuts, bevel cuts are also possible and various marking options are available.
Newest CO2 laser technology
Best cut surfaces for up to 20 mm thick Stainless and 25 mm thick Mild Steel
Beam path length compensation
Consistantly high cut quality over the entire operating area
Ultra-short hole piercing and optimisation of smallest contour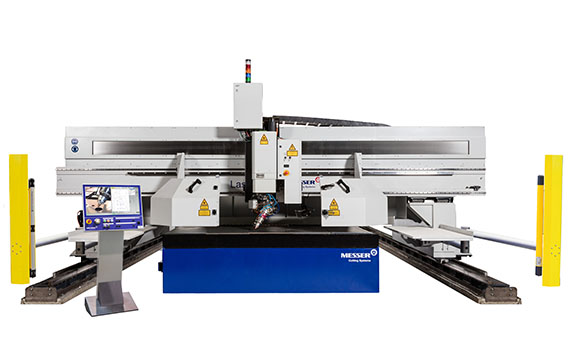 On-board CO2 resonator:
Unrestricted working lengths of over 50 m
Working widths up to 4,5 m
Infinitely rotating bevel heads with continuous angle adjustment: Continuous bevels from -45° to + 45°
Maximum dynamics
The LaserMat® II excels in high positioning speeds and accuracy because of its rigid construction and linear guides. It also makes it possible to process plates 3 m x 12 m – and that in one operation.
With working widths of over 4 m and working lengths up to more than 50 m, the system is predestined for large format plates. The CNC controlled laser processing system offers high part accuracy due to linear guides for longitudinal and transverse motion. The laser beam is guided in the transverse direction via moving mirrors with 100% beam path length compensation and thus ensures a consistently high processing quality. The colour camera which is directed at the cutting head makes possible easy observation on the screen alongside the operating panel.
In contrast to a fibre laser system, with a CO2 laser a full enclosure is not necessary. The on-board laser beam protection hood guarantees laser safety class 1 and thus makes access for loading and unloading possible even during the cutting Operation.
Messer Cutting Systems GmbH
---
Otto-Hahn-Straße 2-4
64823 Groß-Umstadt
In addition to our cutting machines, we also offer you a wide range of other equipment options. Whether marking or drilling, we are sure that we will find the right solution for you.
Messer Cutting Systems is the solution provider for the metalworking industry. In addition to cutting machines and oxyfuel technology, we offer software solutions, spare parts and a wide range of services.
We are sure that we will find the right solution for your individual requirements. Contact us, we will reply to you as fast as possible.